MN Designs, located in the Cayce, West Columbia and Lexington, South Carolina area, specializes in printing Step-and-Repeat Backdrop Banners for businesses and individual use also for Charleston, Mt. Pleasant and Summerville, SC needs.
Commercial or Corporate backdrop displays usually have one or more corporate or sponsor logos repeated in a step or diagonal, alternating pattern and they are perfect for emphasizing brand names, company or sports team names and logos as backdrops for media press conferences, red-carpet or other special events.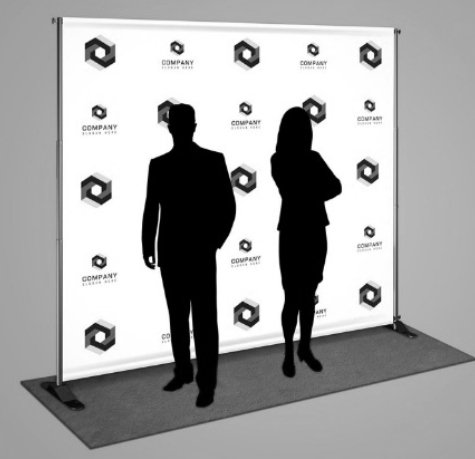 If you are hosting a convention or group gathering, backdrop banners and step-and-repeat banners are awesome for drawing attention and crowd focus. These are often used to allow people to be photographed or videographed in front of your brand.
One of the great benefits is that they can be used over and over again at future gatherings.
As many Americans have begun to work from home or start their own home business, we've seen many people invest in creating backdrops for their Zoom meetings etc. Many are now creating podcasts and more – and backdrops offer a perfect and professional solution for those mobile and home studios.
The perfect item for you may be a personalized backdrop for your home studio! We offer these in 8′ x 8′ and 8′ x 10′ and we can print whatever you need onto it! Whether it be a green screen, your YouTube profile info, or a certain background for a model to stand in front of, we've got you!
The possibilities are endless with these backdrops and they are an amazing investment for any form of creator. Linked down below is the product page where you can select your size and upload your own image, and if you don't have your own image fear not! We can also design it for your specific needs. Let's take your business to the next level together today!
Comes with pole pockets to hang
Step and repeat pattern available
Double stitching for long-term use
Two size options 8′ x 8′ and 8′ x 10
Features:
Multi-Year durability
Full color high resolution printing
Production time: 1-3 day, depending on availability in stock
Size Adjustable:
Width: 81″ to 120″ Height: 41.5″ to 96″
Vinyl Matte Banner Print:
We offer photo quality, full color and eye-catching banners available, basic 13oz outdoor matte material. We can help you with your artwork creation such as creating a birthday banner, store grand opening banner, and banners for every occasion. It comes with pole pocket on top and bottom and grommets on corners and/or every 2 feet on the top and bottom.
Fabric Prints:
This large banner frame (Slider) is a great alternative to standard pop up backwall displays. The Slider can adjust from an 81″ to 120″ width & 41.5″ to 96″ height display. Pole pockets are sewn on all 4 sides of the fabric print. The frame is constructed out of telescopic poles that slide, allowing larger graphics to be used on the display.
We service businesses and families in:
Columbia, South Carolina
Lexington, South Carolina
Cayce / West Columbia
Charleston, South Carolina
Summerville, South Carolina